NEW SHERBORNE RUNNING CLUB TOPS, VESTS AND JACKETS - available to order online 

NEW AUGUST WEDNESDAY EVENINGS BROGA, POWER YOGA & FLEXIBILITY COURSE  '
The August course will cover 4 weeks and the dates are Wednesday 1 and 8, 15 and 22 August, all at 6.30pm to 7.30pm. This course is the Broga "sizzle" workout, which is our 'beginner's' workout covering the whole body, whilst improving core strength and stability for the whole hour. Please contact us if you are interested in finding out more about Broga in September as our current course in August is fully booked. We love it! The cost of this course is £20 payable in advance which you add to your monthly membership standing order. Contact us for more information.
FRIDAY EVENING OUTDOOR BOOTCAMP BLITZ 
It is officially summer. We are outside with Simon coaching this HIIT type training session which includes tyre flips, battle ropes, tyre drags, farmer's walks, kettlebells, boxing and grid sprints. These sessions are suited to all abilities for both men and women and are intended to be different to our normal sessions based on the type of equipment we use, but also by working in pairs we really encourage each other to train hard and have fun doing it.  We like to think we create a "unique" environment to train in. The sessions are normally on the alternate weekends to our Saturday morning blitz to compliment our member's training program by giving as much variety as possible.  The remaining sessions for the quarter ended 30 September 2018 are 3 and 31 August, 28 September. (No sessions on 6 July, 17 August and 14 September).  HEADS UP  - there will be a one off Thursday bootcamp on 16 August. All the sessions are at 5.30pm to 6.30pm with the exception of 16 August which will be 6.30pm to 7.30pm. The cost of each session is £7 payable in advance. Places are limited to 10 and all the sessions in this quarter are now fully booked.  Contact us for more information or if you would like to get invloved in our next quarter's program in October.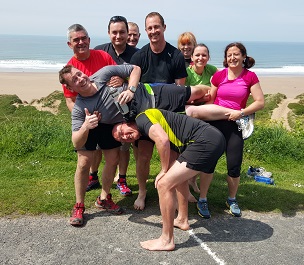 EXMOOR RESIDENTIAL BOOTCAMP
There was a Sunday to Wednesday residential bootcamp which took place on the 15 - 18 October 2017 on Exmoor at the Heddons Gate Hotel  - contact us for more information. We are planning our next next residential bootcamp in 2018 - if this is of interest do get in touch to discuss further.
SATURDAY MORNING SMALL GROUP STRENGTH & HIGH INTENSITY FAT BURNING BLITZ 
The new course will be based more on the crossfit protocols and small group personal training. For the first time, we will include olympic and power lifting moves to build strength and power, and then take these into crossfit Workouts of the Day (WODs).  Each session is broken into 2 parts, part A for strength includes E2MOMs for 5 reps of 5 sets where we concentrate on developing technique and building strength.  Part B will concentrate on metabolic conditioning/fat burning which includes HIIT sessions such as AMRAPs and Tabata (there will be 2 different short workouts). This course is fortnightly on Saturday mornings and the remaining dates for the quarter to 30 September 2018 are 11 and 25 August, 8 September (no session on 22 September). The sessions are at 08:30 to 10:00. The cost of each session is £10 payable in advance. Places are limited to 8 as this is small group training and not a "normal" class.  All the sessions in this quarter are fully booked. Contact us for more information. or if you want to join our "crossfit" team for the next quarter in October.
Refunds Policy
As we are a small business, we regret that we are not able to offer any refunds on sessions paid for in advance which you are unfortunately unable to attend.
Staff training and annual leave - the studio will be closed for the following dates (inclusive):
From 12noon on the 17 August - 9am on Monday 20 August
Monday 27 August 2018 - Bank Holiday
Monday 10 September  - Sunday 23 September 2018
12 noon Friday 21 December 2018 - Tuesday 1 January 2019